Ductless Mini-Split
Ductless Mini Split AC Repair & Installation Services
Pick up the phone and call (503) 308-1525 today if you want professional ductless mini split AC repair and installation service. When our licensed technician arrives at your home or business, he will explain the benefits of a ductless system and answer any questions you may have. The summers in Oregon are hot and humid enough to make air conditioning more of a necessity than a luxury, especially if you have a smaller house that traps in the heat over the course of the day. One type of air conditioning system that's been getting a lot of attention is called a ductless mini split AC system. This type of air conditioning offers several benefits that traditional systems don't provide.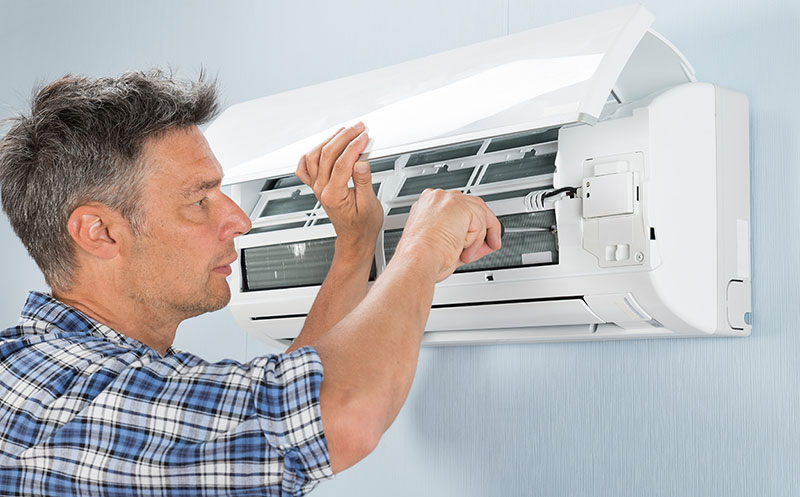 Good Reasons to Choose a Ductless Mini Split AC System
As is evident by the name, a ductless mini split AC system functions without the use of standard air ducts. This type of system uses an external unit and a series of pipes connected to air handlers on the inside. Perhaps the biggest benefit is that it's possible to control the temperature of individual rooms, rather than having to cool the entire house. If you have some family members that like the AC on high and others that complain about the cold, this type of system is ideal.
A ductless mini split AC system is also energy efficient because there's no chance of leaks in the ducts that lead to air escaping into places it shouldn't be. The insulated lines that transfer the cooled air will result in lower energy bills and a longer lasting system.
Is Professional Repair and Installation Required?
Although a ductless mini split AC system is easy to use when compared to other systems, it isn't simple to install and the DIY approach shouldn't be part of the process. A professional installer is familiar with this type of system, knows your local building code rules and has troubleshooting capabilities the average homeowner doesn't possess. If your goal is a safe, efficient and effective air conditioning system, then professional installation is the only way to go.
Whether you already have a ductless mini split AC system, or are interested in giving it a try, we have experienced technicians that can help you out. Call Integrated Air Solutions today at (503) 308-1525 or contact us here so we can provide the repair or installation solutions you need.